When it comes down to finding the best rowing machine for a home workout the Ergatta vs Hydrow rowing machine designs will blow your mind! Not only that, you'll be left wondering which one is your one and why you should pick it. Users of the Ergatta Rower will tell you it's a beauty with its handmade features while still giving you a full body workout. The Hydrow Rower will match you, stroke for stroke, growing with you as you adapt and change.
Comparison Overview:
The Ergatta rowing machine relies more on gaming-inspired technology while the Hydrow gives you an interactive home workout with instructor-led classes as an option.
The Hydrow gives you other options such as the Starter Package and the Pro Package.
In today's comparison review, we're talking specifically about the Ergatta Rower vs the Hydrow Rower. We've compared the two products so you can be better informed about which rowing machines are best for you and your home environment.
Design
The beautiful and elegant design of the Ergatta rowing machine is meant to fit into your home, both size-wise and style-wise. It's compact enough to fit into the smallest living room without looking like an eye-sore. It can be folded up into the space of a narrow closet and has wheels for easy mobility should you want to move it into another room.
The sleek and modern design of the Hydrow workout equipment would look good in any room in the house. It's not only designed to look good but to give an unmatched performance that will stay with you for a very long time. The ergonomic design of the handle ensures you never lose grip while you row. The 10-roller system seat keeps you comfortable with its design to fit well while you do your workouts.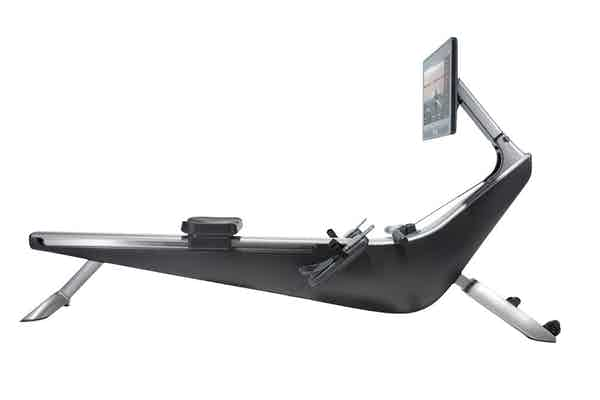 The Hydrow's wheel system also allows you to move it around the house so you can pick the best location for exercising.
While the Ergatta workout machine uses real water to create the sensation of natural water-resistance while rowing, the Hydrow machine creates computer-controlled resistance through its drag mechanism.
When it comes down to design, the Ergatta wins first prize for its handcrafted and natural, wood style.
Build Quality
The designers of the Ergatta use American cherry wood from Rhode Island when they handcraft this rowing machine. While attention to aesthetic appeal shines through in this machine, it's also been designed to outlast the warranty.
The Hydrow rowing machine is made with an aluminum and steel frame plus a flat anthracite polymer body. Rowing actions are silent with the polyester webbed strap smoothing out each stroke.
While both products are warranty covered structurally for five years, some people may feel more comfortable with an aluminum and steel frame for durability and reliability. If you fall into this group, your pick will be the Hydrow.
Console
The 22-inch touchscreen of the Hydrow brings the waterways to your living room using PCAP technology. You experience a real-time river experience with accompanying sounds from the front-facing speakers. Screen resolution of 1920 x 1080 full HD can only enhance the rowing experience. The monitor screen is adjustable by 15 degrees to give you a better viewing angle.
The Ergatta's 17.3-inch digital touchscreen is android-powered with a 1920 x 1080 full HD resolution. This touchscreen will have you engaged in your rowing workouts using their gaming-inspired content. You can expect to get push programs for focusing your goals. Interval-based HIIT and workouts for endurance giving you personal feedback is another benefit of this workout equipment while you can pick between competitive races with another connected rower or go self-led at a more relaxed pace.
For an on-the-water rowing experience, the Hydrow's touchscreen delivers scenic river landscapes together with dynamic coaches having you fully connected with the experience whether you're in your living room or bedroom!
Smart Features
Both the Ergatta and Hydrow may be connected with Bluetooth for heart-rate monitors and audio. WiFi connection is needed for both with Hydrow giving the option of Ethernet connection. Hydrow does recommend a high-speed broadband connection for optimal streaming performance.
The Hydrow app on your mobile gives you the option of taking the workouts off your Hydrow touchscreen and using them on your mobile device.
If smart features are a deciding factor for you, the Hydrow app may seal the deal for you.
Monthly Membership Options
You can sign up for a monthly (or annual) membership when you buy the Ergatta and get access to the gaming-based fitness platform as well as the latest software which is developed every couple of weeks. It includes access to a library full of fitness workouts plus 5 new ones added every week. You can design your own workouts to suit your own goals plus have access to a dashboard to store all your data and progress. There's no limit to the number of profiles per month. You'll be connected with the community of Ergatta competitors and have access to the "Race against the Stars" series.
While the Ergatta membership is sold separately, the Hydrow membership is required on the activation of the machine. Users will have full access to everything from live demand rowing to rowing with other rowers plus unlimited user profiles. The Hydrow membership monthly subscription fee is more expensive than the Ergatta membership.
Dimensions
When the Ergatta machines are in action they measure in at 86 x 23 x 40 inches vs the Hydrow which measures in at 86 x 25 x 47 inches. Despite the Hydrow being slightly higher, it's much of a muchness if you're comparing for space-saving reasons.
Both store upright with the Ergatta being slightly more compact at 23 x 22.5 x 86 inches compared to the Hydrow at 25 x 33 x 86 inches.
The Ergatta weighs in at 103 pounds when it has water in it and 76.5 pounds without. The weight of the Hydrow is quite a bit more at 145 pounds. For overall compactness and ease of mobility, you will find the Ergatta model is your best bet.
Weight Limits
The Ergatta is able to support a maximum weight of 500 pounds compared to the Hydrow weight maximum recommendation being 375 pounds.
The Ergatta is designed for all body types with an inseam of 40 inches while the Hydrow Rower does have lower weight support with an inseam of 36 inches.
For the bigger person, the Ergatta machines have you covered. If you're buying for the family, then body type also doesn't matter with the Ergatta offering a wider range in weight support and inseam for all rowers.
Warranty
With its 5-year warranty (refer to manufacturer for any limitations), you can be sure Ergatta is confident about the durability and performance of their machine's design and build quality. And if something does go wrong you can have peace of mind you're covered.
The warranty of the Hydrow rowing machines offers up to five years for the structural frame, 12 months for the various components, screen, and electronics, and 12 months for labor. Refer to the manufacturers for any other conditions.
Both products offer a full 30-day refund if you're not satisfied with your purchase.
Price
A decision between two high-quality products is often swayed by the price. But, you'll find these two rowing machines for the home are comparatively similar in price with the Ergatta coming in slightly lower than the Hydrow.
Both products' prices include everything you need to get started with this home workout equipment.
This Weekend Only! Save $100 Off the Hydrow Rower with code WKND100 at checkout!
What Others are Saying About the Products
Another great way to help you make a pick between two products offering similar features is to consider what other users are saying.
Rowers who picked the Ergatta Rower rave about the design and how it fits so comfortably into most spaces and styles. One customer went as far as to say it complements her living room furnishings! So, if the aesthetic design is important to you as well as functionality, you simply can't go wrong with this home workout equipment.
But, as we know functionality is essential for a good workout, rowers of the Ergatta rowing machines also talk about how easy they are to use and they love the different workout programs. Working with the interface is a breeze and the programs keep you engaged on all levels.
In comparison, rowers using the Hydrow machine are inspired by the instructor led classes and constantly feel motivated to improve their fitness level. The option to pick live and on demand workouts or even to go unguided is popular with many users. You can track your stats regularly and you can see it right in front of you whenever you want to. The workouts are challenging and you feel like you're getting a good workout. Plus, the scenery takes away all the pain while you're sweating it out!
Customer service on both products is rated at excellent so you can easily rely on getting the help and support you need when you need it. Buyers of the Ergatta rowing machines had no problems with delivery and a professional handles all the assembling and installation for you. Those who assembled the Hydrow machines themselves found it simple enough to follow the instructions.
Final Thoughts:
When trying to decide between two products that give both high-quality performance and durability, it can become a difficult decision. Both products are easy to use and offer a wide range of workout programs. The gaming-inspired technology of the Ergatta Rower could swing your vote while the real time workouts with rowing coaches of the Hydrow Rower may be more your scene.
Other brand names in the fitness equipment industry such as Peloton and Echelon also offer similar rowers. But when it comes down to the Ergatta model vs the Hydrow model comparison, which will you pick? While we enjoy the idea of encountering the outdoors while sitting in the comfort of our home with the Hydrow Rower we get it if you prefer the different thrill of using the Ergatta online game experience for your workouts.